Video Structured Data/Schema Markup Helper & Examples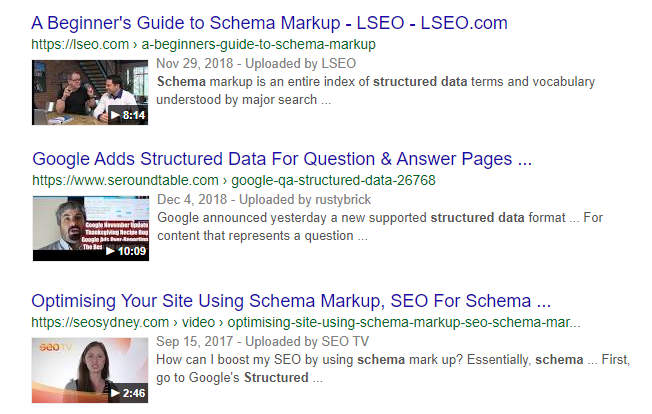 Video - Google Rich Snippets
Google sometimes shows rich snippets for pages that contain videos. It uses video specific structured data on the page to understand more about the videos it shows. These enhanced results can show up in multiple Google platforms including search, video, images and Discover.
There are currently several ways Google can enhance a video result, and more to come. You can also reference videos in How-to structured data.
Use the following editor to enter your video or video collection, then scroll down to see the code for your structured data using the schema.org vocabulary in JSON-LD or HTML/Microdata formats. Or pick from one of our examples showcasing different ways to markup videos.
Quickly add Emojis to text fields ... on Windows: + . on Mac: CTRL + CMD + Space
Note: The WSYWIG editor will rewrite this html when you save it. Don't expect to see the exact same HTML next time.
Tips
Code
HTML Preview
Stand Out on Google Search Using Structured Data and Search Analytics (Google I/O '17)
Learn how to make your site stand out on Search. Google increasingly uses structured data to understand a site's content and present better web results to us...
The video was uploaded on 17/05/2017.
You can view the video here.
The video lasts for 28 minutes and 41 seconds.
Clips